Screw you US magazine... Here is the cover of their latest issue. Then I will post a commentary on this.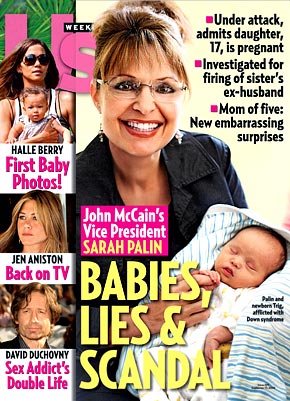 Okay, US magazine is owned by Rolling Stone, which is owned my one of Obamas largest contributors and supporters. In this issue they suggest that Palins handicap baby is not even hers(source Beck CNN). Lies......... smear..... smut....
I do not care if you are an Obama fan or McCain fan....... this is bull. Besides this, US has nothing to do but concentrate on her daughter. SCUM.... I do not like the lies if they are about Obama.. and yes there has been many. I do not like the fact US does not put a disclaimer on their site stating they are opinionated and will lie for their cause. Never again will there be an US or Rolling Stone (my kids are big fans) in my house again. The national fricking enquirer tells more truth. Maybe I'll run 100000000 banners (yes thats a lot of zeros) telling to boycott US. They'd like that. As most of you know I don't care who I piss off... and I will spend the money aimlessly to do it. I have ran over 10000000 ads against citgo already.
Most of the smears on BO were internet led... (sorry, that's the truth) and harder to fight back against. I promise you if US claimed Michele Obama's kids were not BO's I'd be flaming mad and after them. My politics are not an issue here... but if the media keeps smutting I will hit one at a time.... I hope BO reads the US article... rebuts it.... and returns the shitheads money. That would build value with me. Go ahead US... pick on kid.... lie.... I have something for you.... You all know I do.
I'd love to boycott the rag, only problem is that I have never so much as picked up the magazine. Won't be starting now.

---
Permissions in this forum:
You
cannot
reply to topics in this forum